Cardboard cutouts are made with Hi-Res images, printed directly on a substrate and contour cut for precision accuracy.
Life Size Cutouts Charlotte
Starting at $300 on orders of 5 or more.
Life Size Cutouts Q & A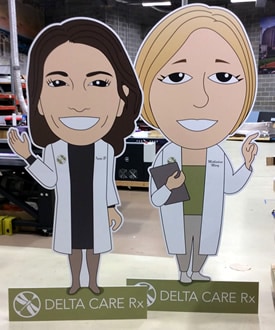 How will the standee stand?
Easel Back: a foldout stand attached to the back of the cutout
Interlocking Feet: base pieces printed and cut with a 1/4" grooves that slide together and lock in place
What is a cutout made from?
Gator Board
Foam Core
Cardboard
PVC
How much does a cardboard cutout cost?
Price variables include quantity, substrate and size
Average single order for 6' foam core cutout starts at $300 each
We direct image print to foam core substrate, Coroplast or PVC boards with scratch resistant, UV inks and custom cut your life size cardboard cutout.
The 10" tabletop standee is very popular, a 6' large custom cutout can be the actual height of the subject, we have made cutouts up to 8' tall!
Cutouts are a great conversation piece for trade shows, parties and as gifts. All cutouts come with a stand.
Make a cardboard cutout of your kids or pets!
Click here to visit our life size cutouts FAQs web-page.
---
Cardboard Cutouts Gallery
---
Customer Review via Google+
Jeff did a bang up job producing our "INF (Intermediate Nuclear Forces Treaty) Heroes Posters" in time for a special event we held to honor some tremendous contributors to a safer world who are no longer with us. Thanks, Jeff!! Charles Haver
Read More Reviews...