The Best Interior Signs and Graphics Options for Companies in Raleigh, NC and the Research Triangle Area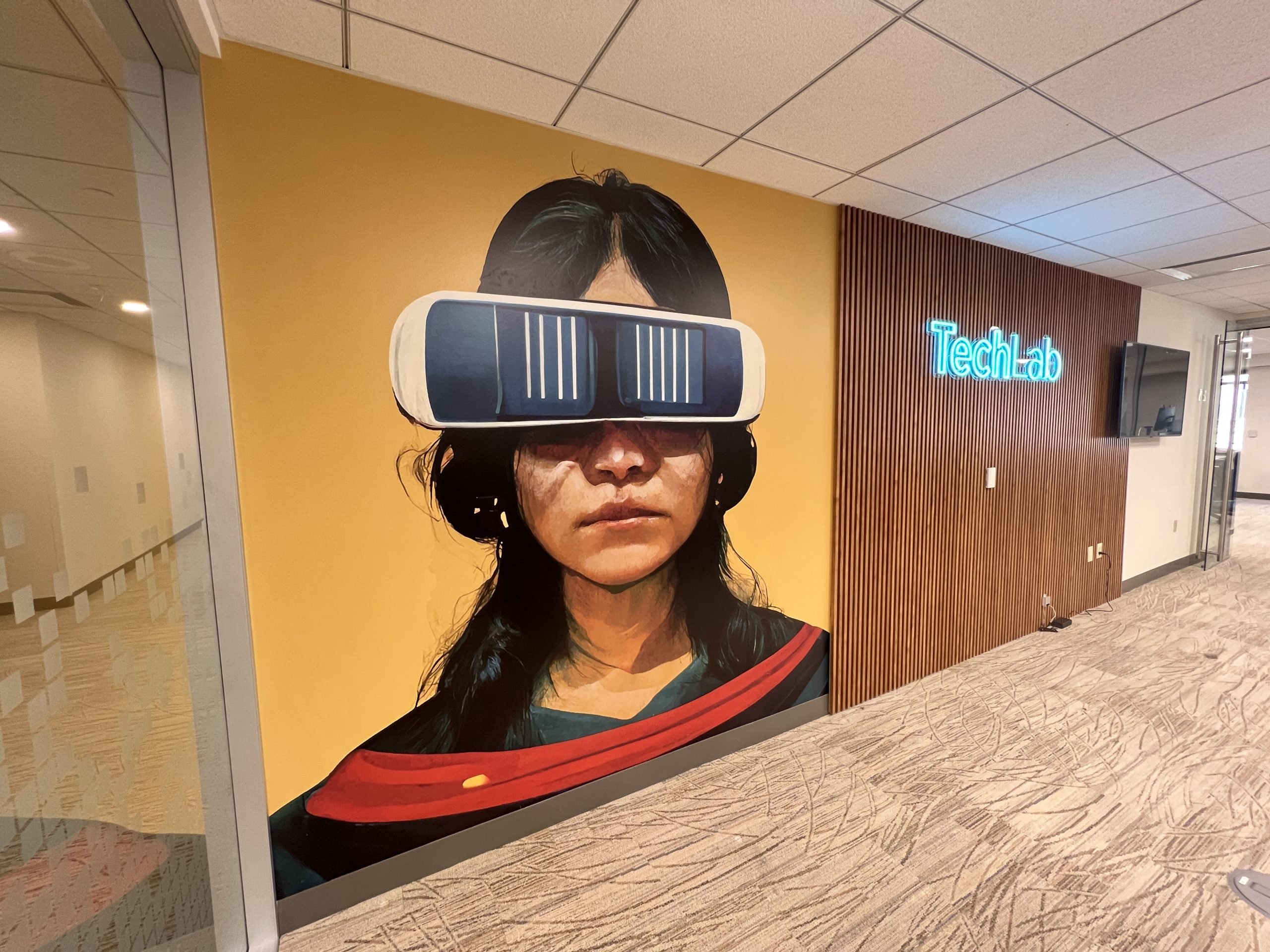 Interior signs and graphics play an important role in creating a professional and welcoming ambiance for any business in Raleigh, NC. When guests walk into your office space for the first time, they're already forming an impression of your business before they've even seen or experienced your services. Your interior signage can help you make a positive first impression and enhance your brand recognition. Companies, organizations, and event spaces in Raleigh, NC, or the Research Triangle Area that wish to captivate potential customers utilize impactful interior signs and graphics to make spaces inviting and turn spaces into experiences.
Interior signs encompass a variety of types and fulfill multiple roles within a corporate interior setting. From enlightening potential customers about a company's goals to motivating employees with corporate values and mission statements, interior signs should effectively relay your brand message to everyone interacting with your corporate environment. With adaptability and personalization, corporate interior signs can mirror the distinctive personality of your business and make a lasting impression on all who step into your premises.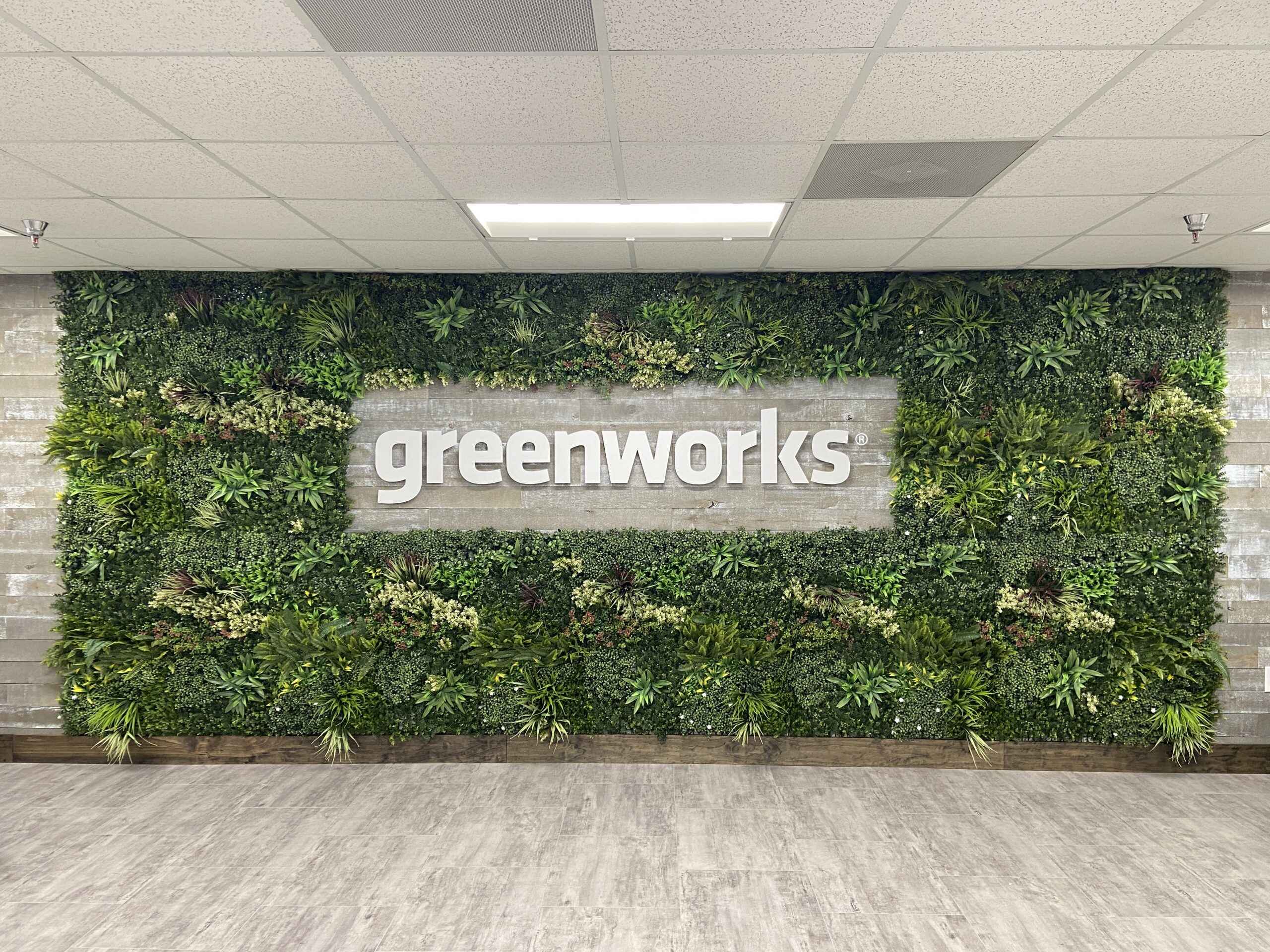 Why Having Unique Custom Signs Helps Transform Your Corporate Interior Environment
As companies and organizations endeavor to carve out a robust brand image, the interior areas of their premises become pivotal in drawing in customers and projecting their brand's ethos and mission. In Raleigh, NC, the importance of interior signs and commercial interior graphics is paramount, acting as a conduit of communication between a business and its intended audience. Engaging interior signs can enrich your workplace ambiance and imprint a lasting memory on your customers.
A unique custom sign gets your brand noticed and sets you apart from your competitors. When choosing the right sign to represent your brand, it's important to work with a local signage company with a creative team that can provide you with impactful signs and graphics that reflect your business's personality and style. With our team of designers and production specialists, Heritage Printing, Signs & Displays can help you create a unique custom sign that matches your specific needs and preferences.
6 Appealing Interior Signs and Graphics Options in Raleigh, NC
Adhesive vinyl graphics are an excellent choice for creating interior signs in any Raleigh office, lobby, or corporate space. Not only are these graphics cost-effective, but they're also versatile and durable. Adhesive vinyl is perfect for giving your walls a professional look with promotional messages, logos, images, or custom designs. They can also be installed relatively quickly and easily, allowing you to get your signs up in no time. Adhesive vinyl graphics are a great way to make sure your business stands out from the competition. Plus, they're easy to maintain, so you won't have to worry about the graphics fading or deteriorating over time. With adhesive vinyl graphics, your Raleigh office or storefront can have the perfect signs for years to come.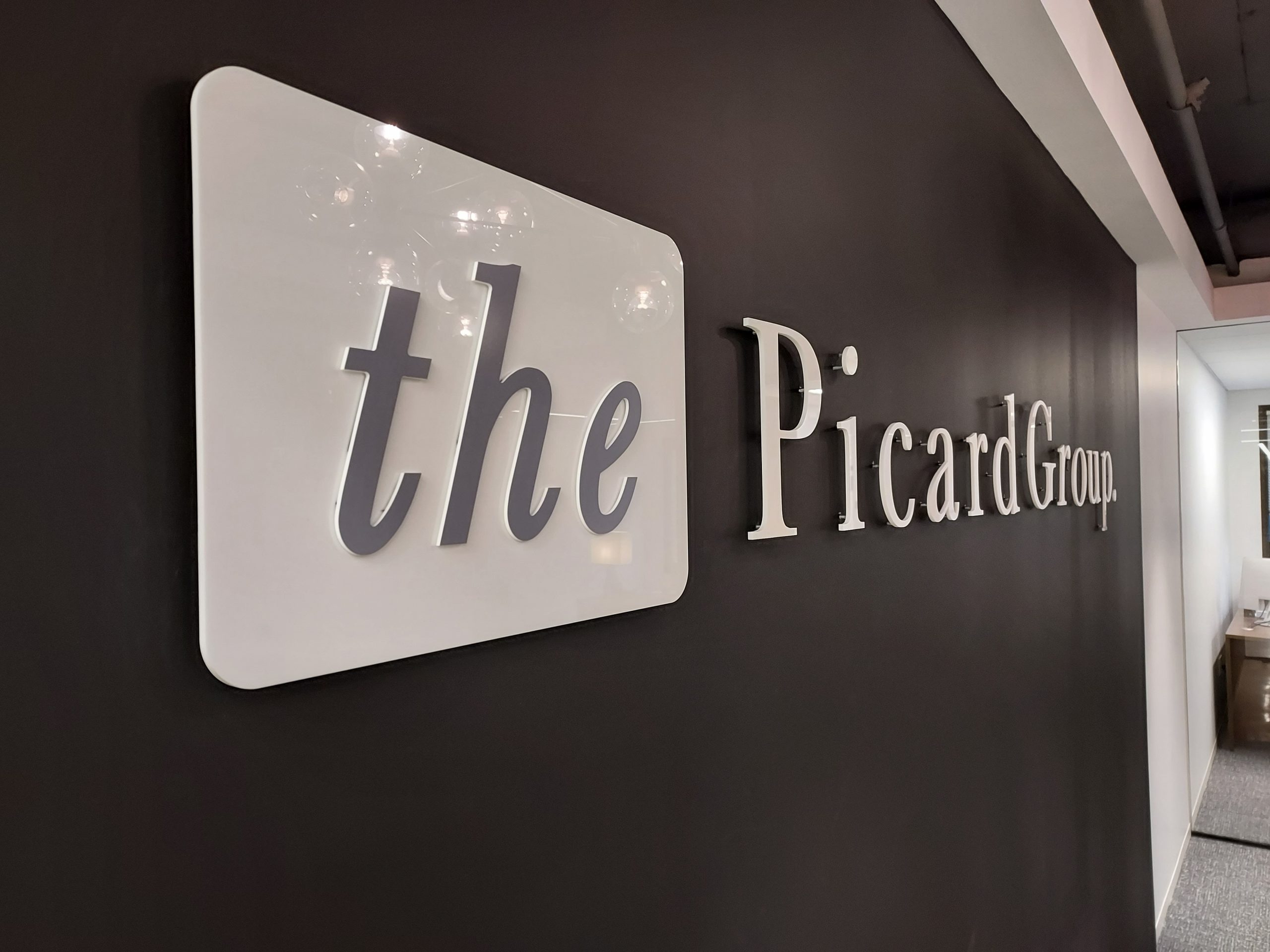 Dimensional letters are a great choice for indoor signs because they offer a bold and attractive look. These three-dimensional letters can be made of acrylic, metal, plastic, or even wood, so you'll have plenty of options to choose from. Dimensional letters can be used in lobbies, hallways, offices, and other interior spaces to create an eye-catching effect. Not only are they aesthetically pleasing, but they also allow you to make a statement with your signage – perfect for any Raleigh office or storefront.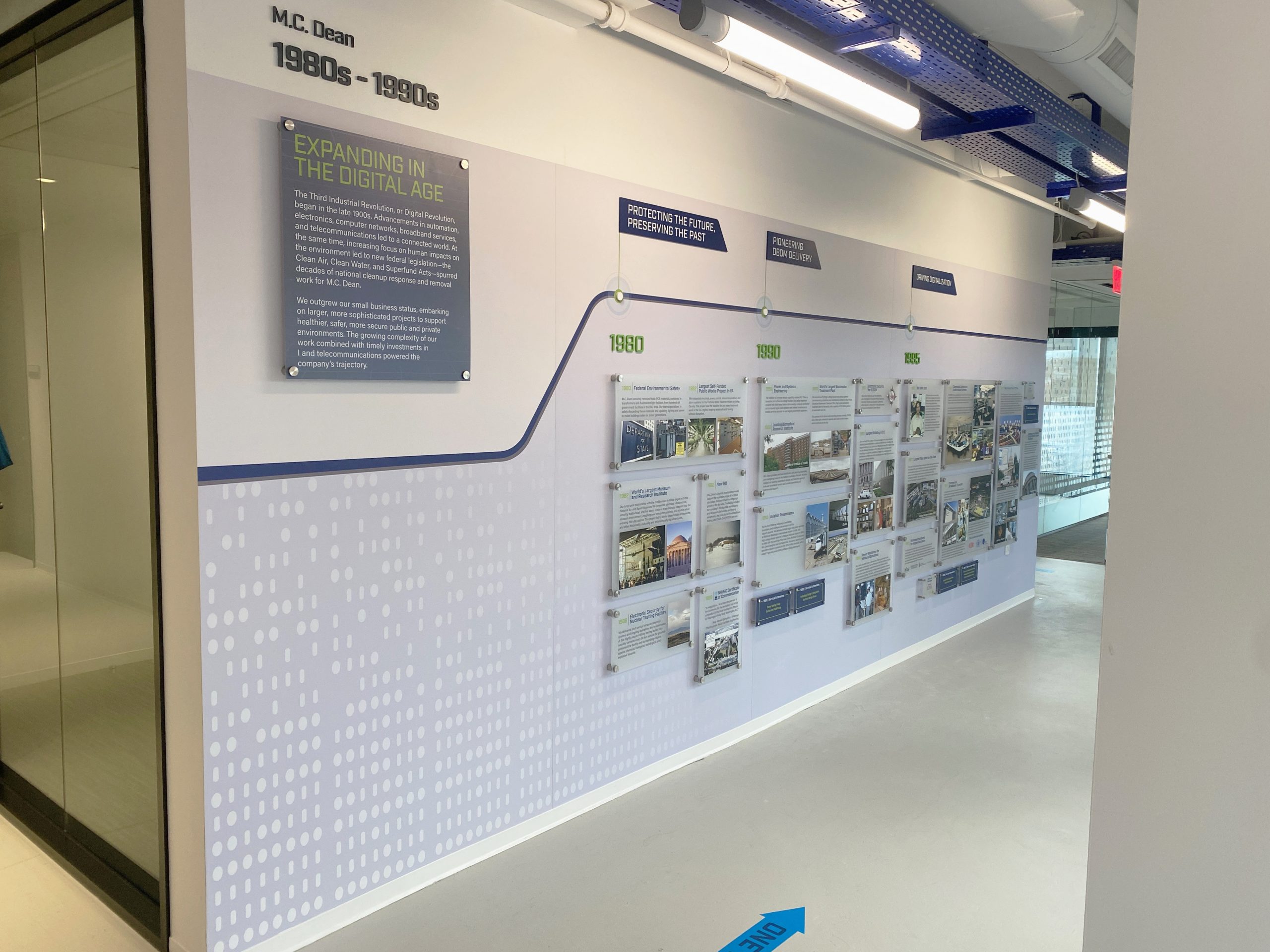 Showcase important information or visuals with timeline wall displays. These indoor signs are perfect for creating eye-catching visuals that your customers will remember. Show off your business's history, list upcoming events and promotions, or feature special milestones. Timeline wall displays can be customized to fit any space and display vibrant colors and images that add depth to the interior of your Raleigh office or storefront. Not to mention, these displays are easily updated – so you can keep up with the ever-changing needs of your business and customers. With timeline wall displays, you'll be able to create unique interior signs that will attract attention and leave a lasting impression.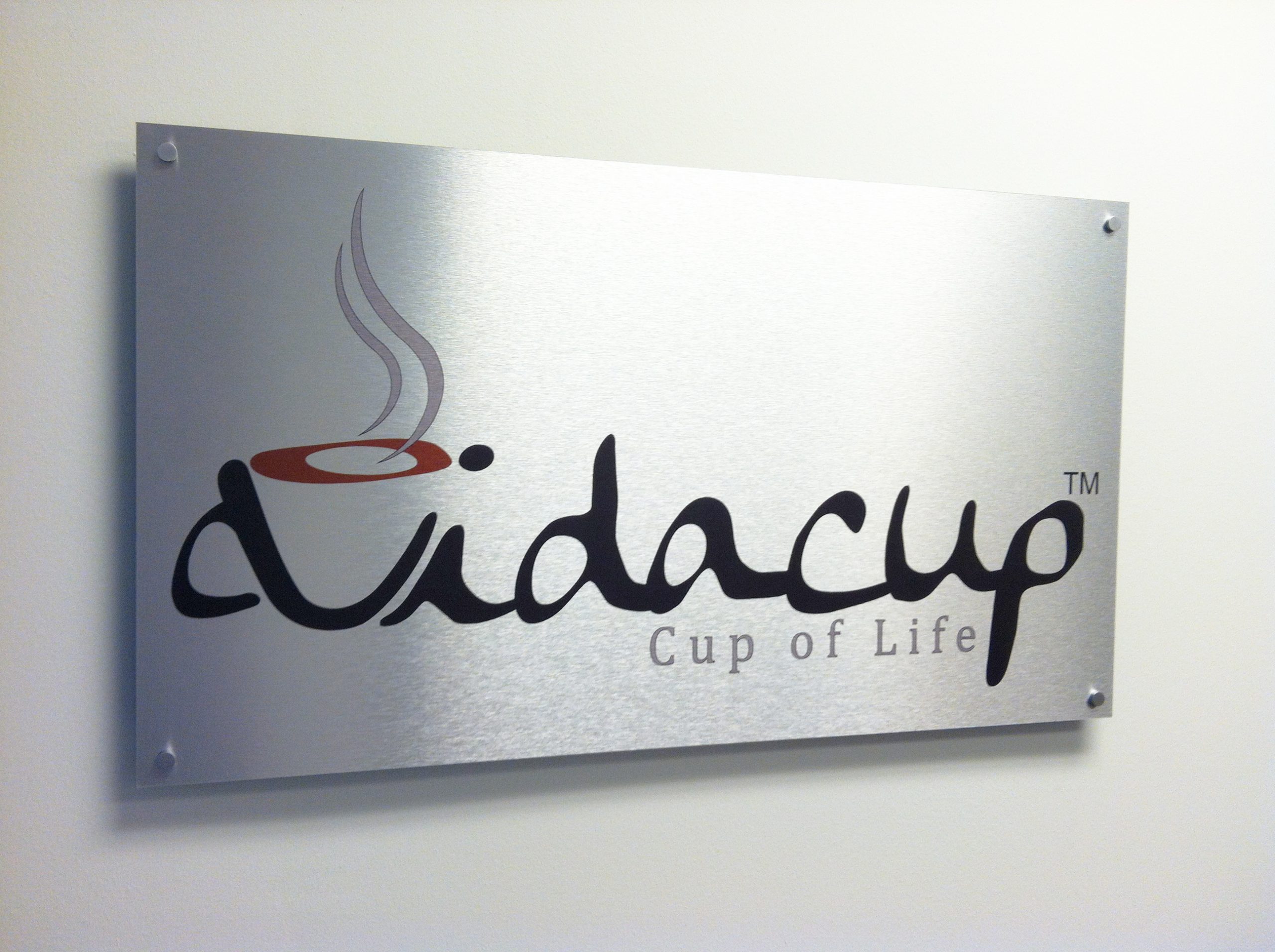 Standoff mounted signs are an ideal option for creating a more modern, sophisticated look for interior signage. These sleek signs feature metal frames with printed graphics suspended from the ceiling or walls using clear acrylic rods. This creates a floating effect that has high impact and visibility. Standoff mounted signs can be used to display logos, promotional messages, product information, and more in any Raleigh office or storefront. They're also a great way to draw attention to specific areas, such as reception desks and product displays. With their modern look and sleek design, standoff mounted signs can be the perfect addition to any interior space.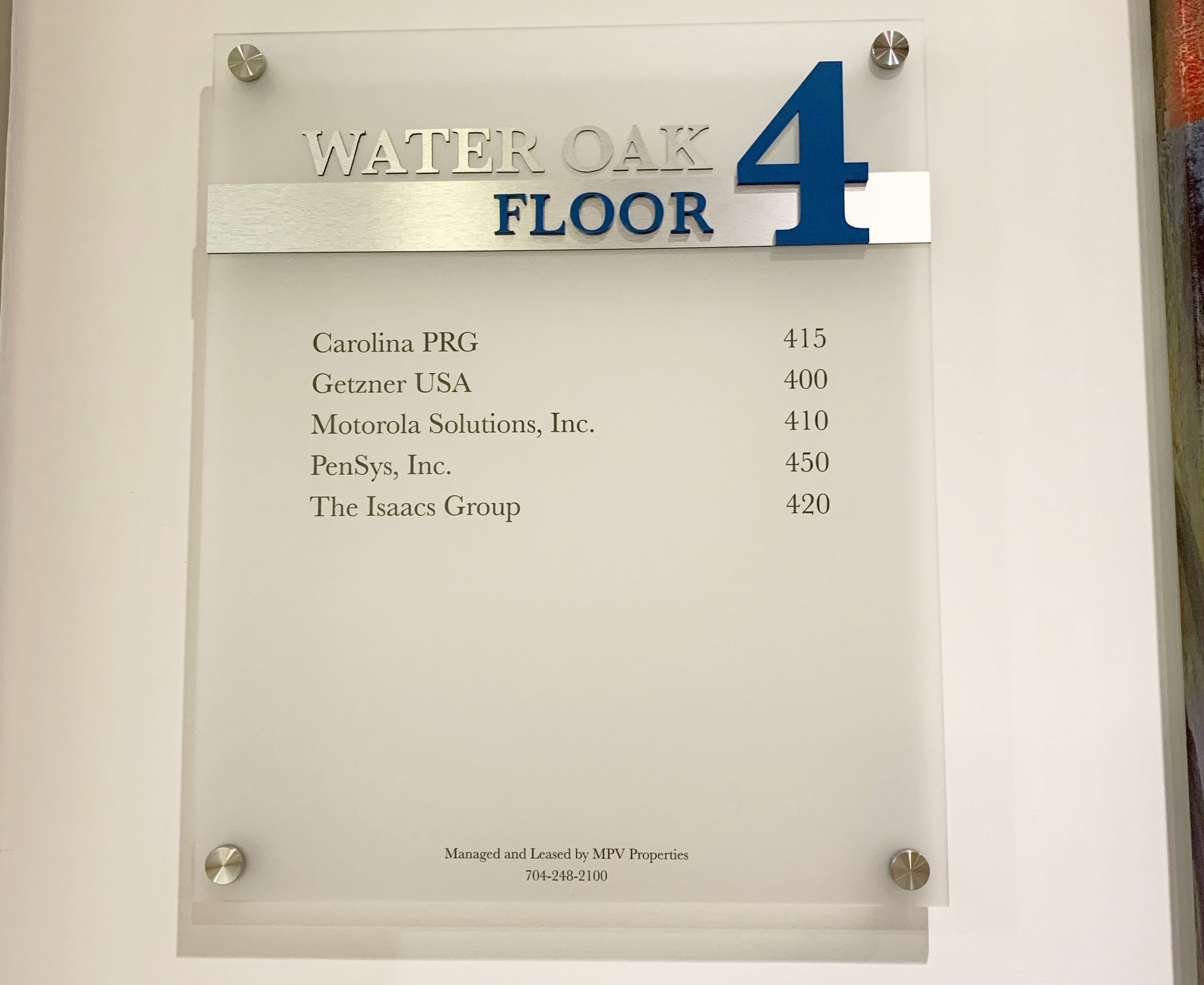 If you run a large organization with many departments, visitors and employees might need to find where to go. Wayfinding signs can help make their time within your company easier and hassle-free by providing directions with easy-to-read lettering. Heritage Printing, Signs & Displays produces directional signs in a variety of sizes and materials to match your company's brand and serve practical functions within your space.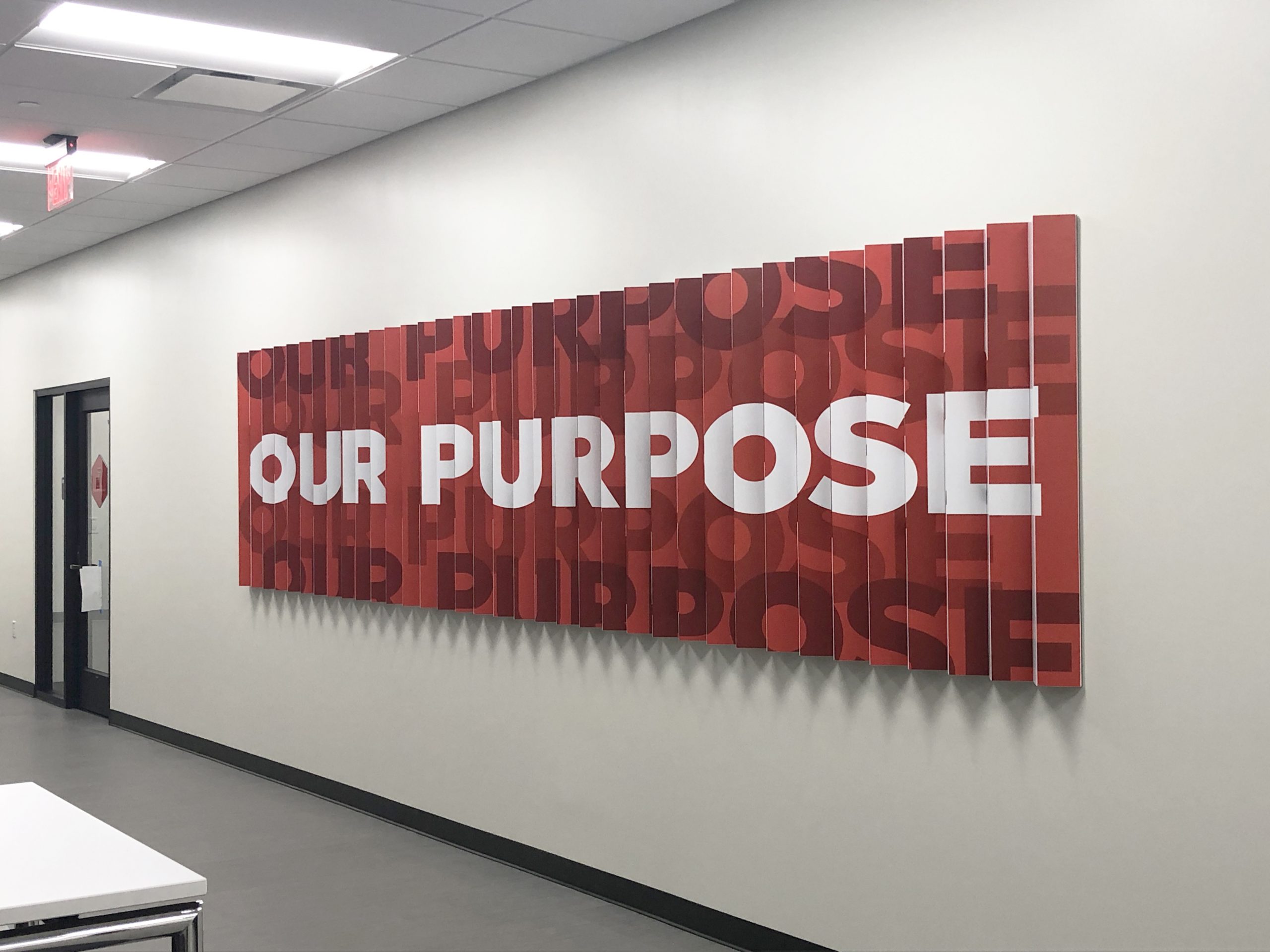 Lenticular wall displays represent a unique category of interior signage that enables the showcasing of dynamic and visually stunning images. These displays incorporate three-dimensional aspects that generate a depth and motion illusion when observed from diverse angles. A single image can effortlessly transform into another, displaying dual elements of corporate branding simultaneously, promoting engagement with the sign and amplifying visual impact. By employing multiple images or merging images with different effects, lenticular wall displays can offer an engaging and enveloping visual encounter.
Why Make Your Interior Signs and Graphics with Heritage Printing, Signs & Displays?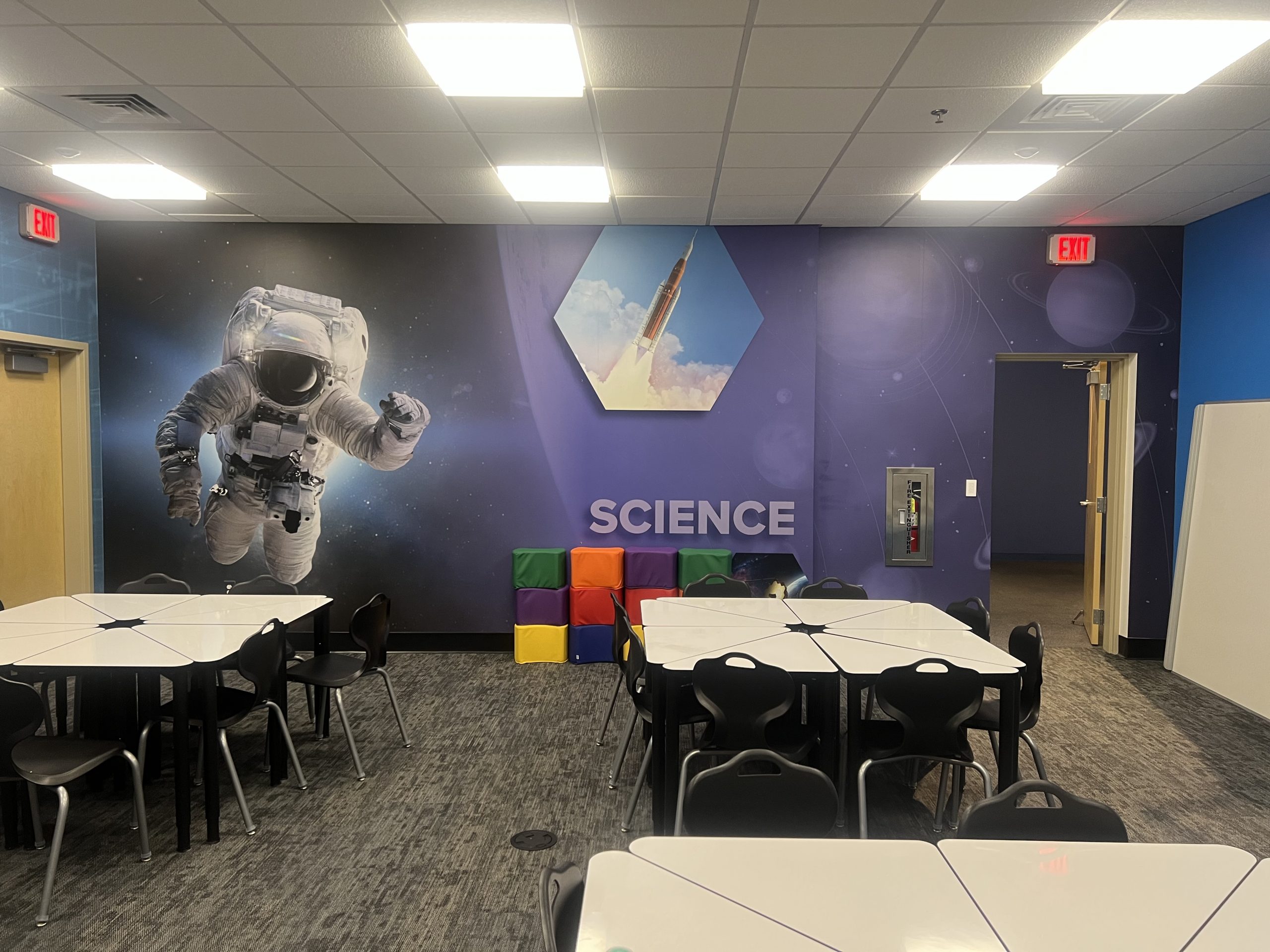 Heritage Printing, Signs & Displays is a leading sign company serving Raleigh, NC and the Research Triangle Area. From our founding in 1977, we have accumulated decades of experience creating and installing award-winning custom signs, trade show displays, environmental graphics, and other signs and graphics that are designed to amplify brands and transform corporate and event spaces. Our dedication to quality has won us several industry accolades and hundreds of stellar 5-star Google reviews from our satisfied clients, as well as industry awards from our contemporaries in the commercial signage industry. With every project, our goal is to partner with your team to craft indoor signage that encapsulates your brand, sets you apart from competitors, and enhances your customers' perception of your business.
The Heritage Team Offers Years of Experience and Expert Sign Installation Services in Raleigh, NC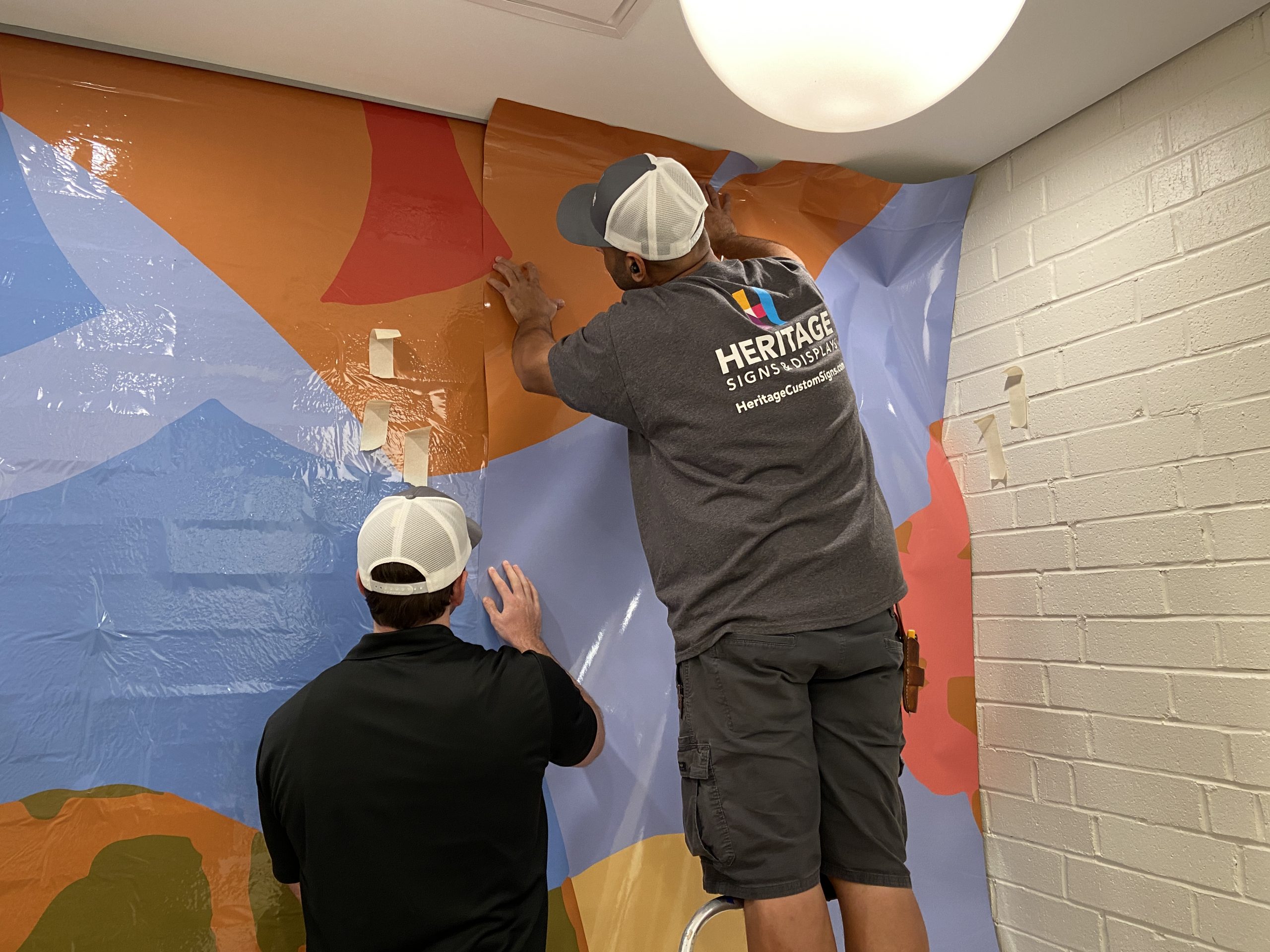 At Heritage Printing, Signs & Displays, we make customer collaboration and satisfaction one of the cornerstones of our business. Our project managers are committed to ensuring your new interior signs exceed your expectations and transform your space for the better. We make the entire sign creation process effortless and timely. Our team will evaluate your project's requirements, budget, and timeline, carry out a site survey, and present a proposal customized to your preferences. We will then schedule a date for sign installation and our team will install your new interior signs and graphics with minimal interruption to your daily operations. Our goal is to transform your space, amplify your branding, and create an inviting and immersive interior environment that will captivate your customers as well as your employees.
Want to Learn More or Get Started? Contact Heritage Printing, Signs & Displays Today for New Interior Signs and Graphics in Raleigh, NC
If you're based in Raleigh, NC or the Research Triangle Area, contact Heritage Printing, Signs & Displays today to create the most effective branding and signage solution for your business. Our signage team has the experience required for the design, fabrication, and installation of all types of interior signage and graphics to take your corporate interior space to the next level. Get a Quote using the free form on our website or call us at (984) 389-8752 to being the process or speak to a project manager. We look forward to working with you!
#interiorsigns, #customsign, #lobby, #acrylic, #standoffmountedsigns, #tradeshowdisplays