The Heritage team collaborates with Classroom Central to transform their facility with engaging signs and graphics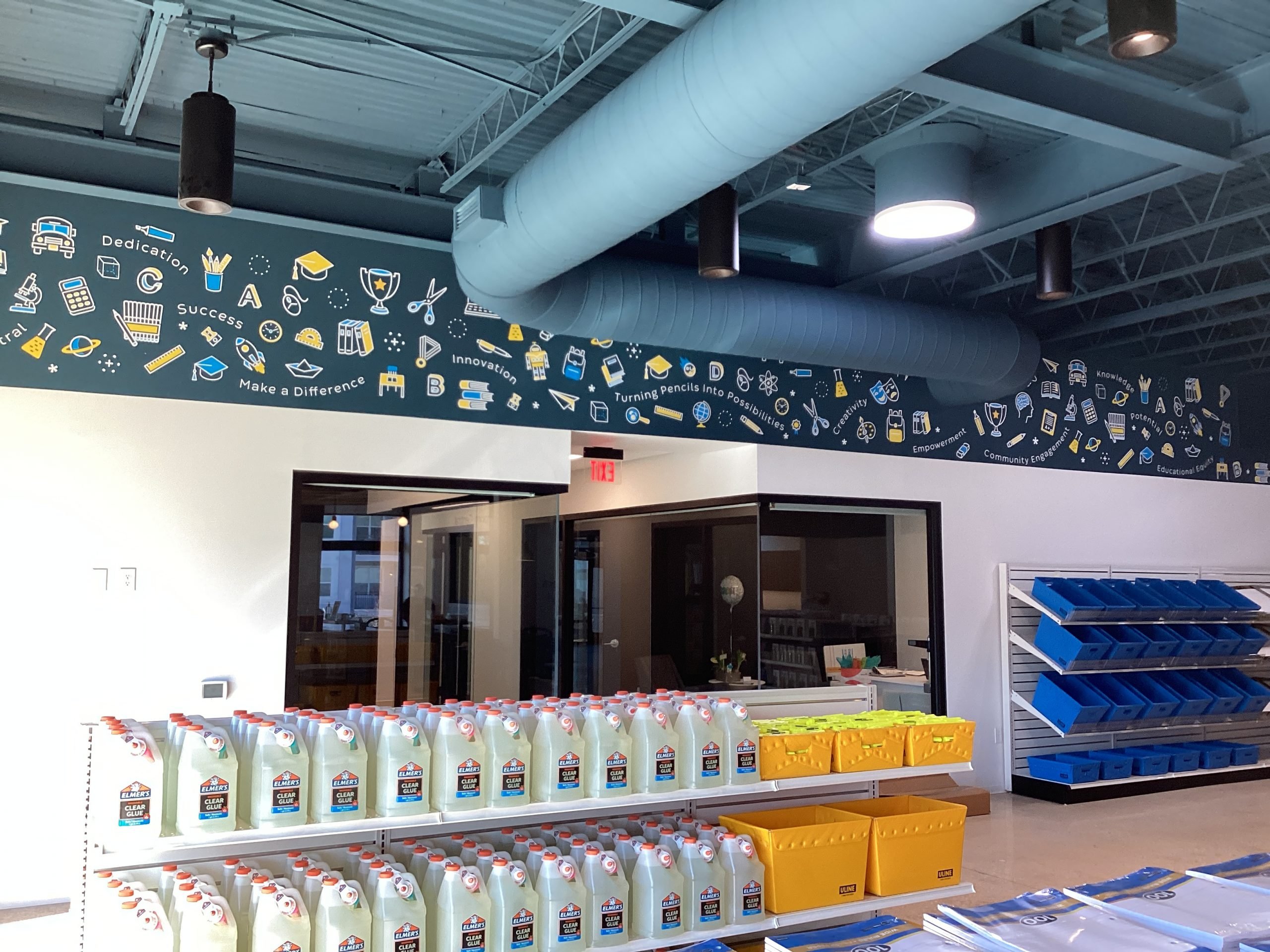 The team of custom sign professionals at Heritage Printing, Signs & Displays recently branded the corporate office of TTI Floor Care North America. Our signage experts printed, fabricated, and installed frosted vinyl graphics, acrylic signs, dimensional lettering, and LED backlit signs to enhance the office interior spaces and reflect the value and prestige of TTI Floor Care's family of brands.
The talented team of sign installers at Heritage Printing, Signs & Displays recently collaborated with the staff at Classroom Central to brand their new educational supply facility with dimensional lettering, contour-cut, vinyl, wall wraps, and window graphics.
Classroom Central's goal was to create an inviting space that would appeal to educators while also amplifying the organization's mission of providing vital supplies to school districts. In collaboration with the Heritage team, the plan for the renovated interior involved the creation and installation of new signs and graphics bearing the approved logos and custom artwork.
Branding the Space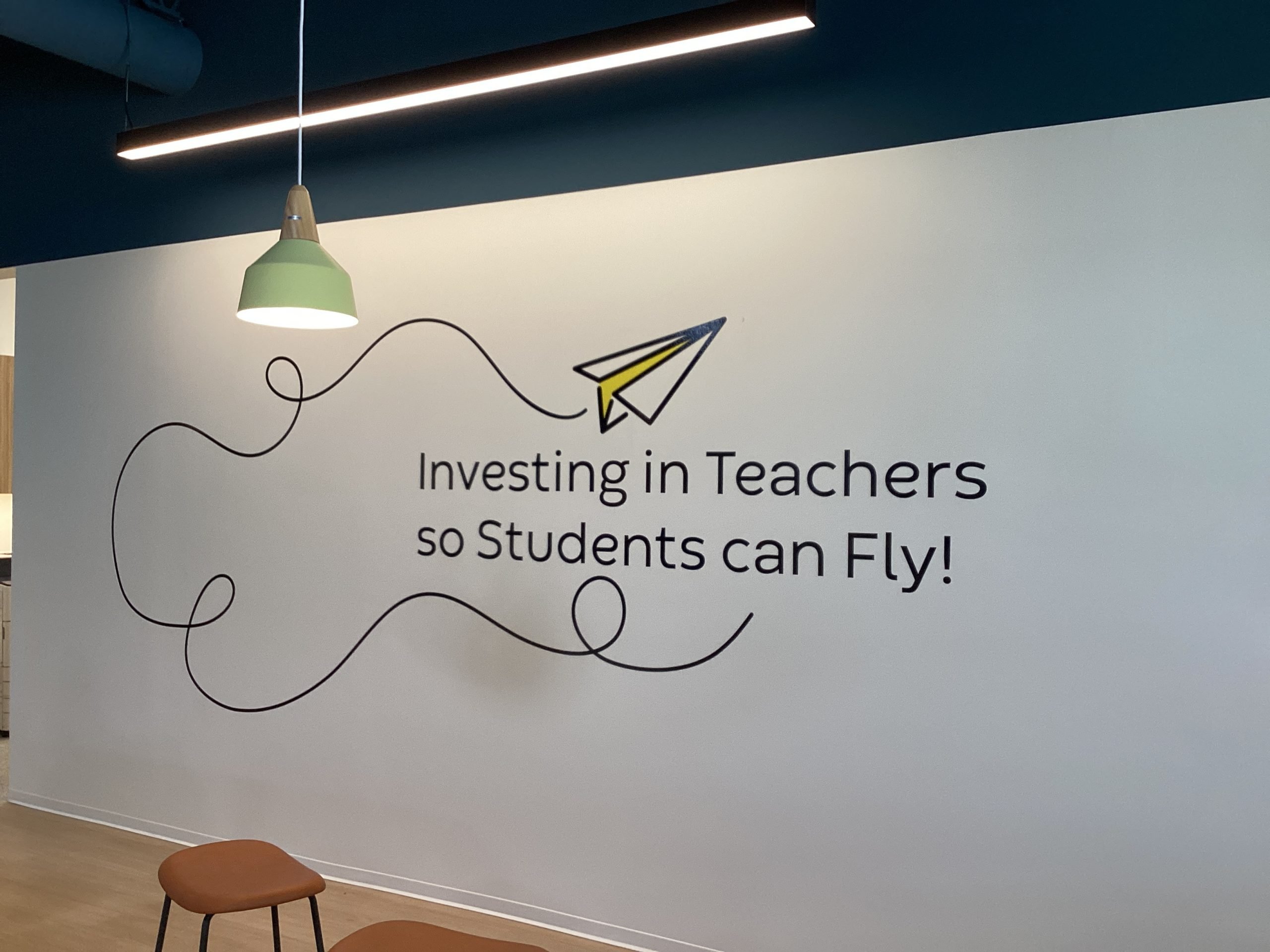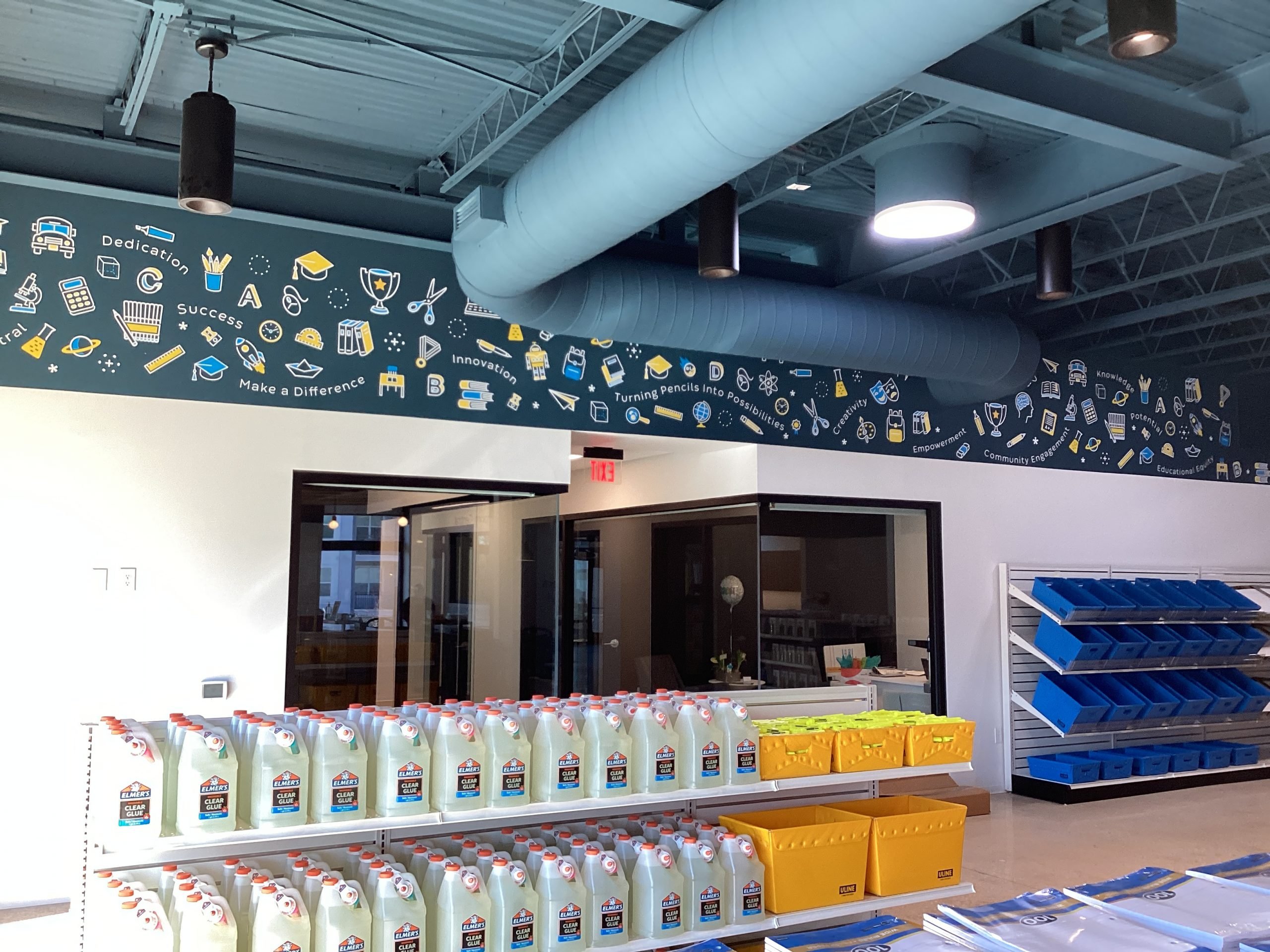 The exterior sign was constructed out of black PVC as a piece of dimensional signage with bright colors and eye-catching designs that immediately pique the interest of visitors to the valuable resource. The exterior sign employed a cleat so that the sign would appear to float roughly two inches from the wall, achieving a three-dimensional effect. In conjunction with the window graphics installed in the entryway glass, these two elements helped to enhance the storefront and create a positive impression on educators and other visitors as they entered the space. Inside the facility, contour-cut wall graphics were utilized to adhere to the interior walls and endure sunlight and moisture. Mojave wall vinyl was used for the conference room wall wrap to add color and texture, while white acrylic was employed to enhance the exterior backlit sign, including additions of contour cut vinyl with marquee letter rails.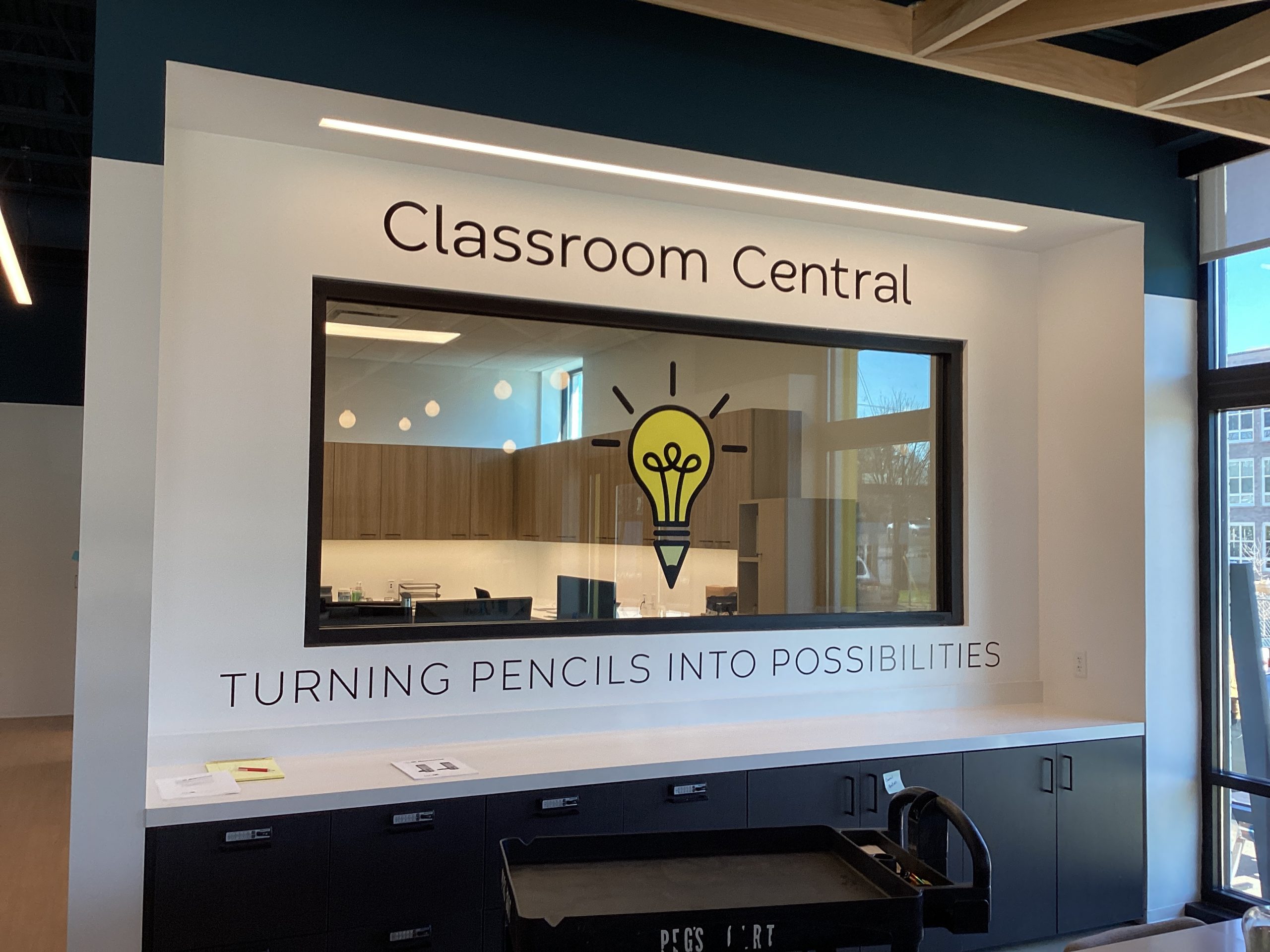 A Grand Reopening
Upon completing the renovation, the team at Classroom Central celebrated with a grand reopening, complete with a ribbon-cutting ceremony and tour of the space. The educators who had the first opportunity to tour the newly renovated space were captivated by the contemporary and creative new interior.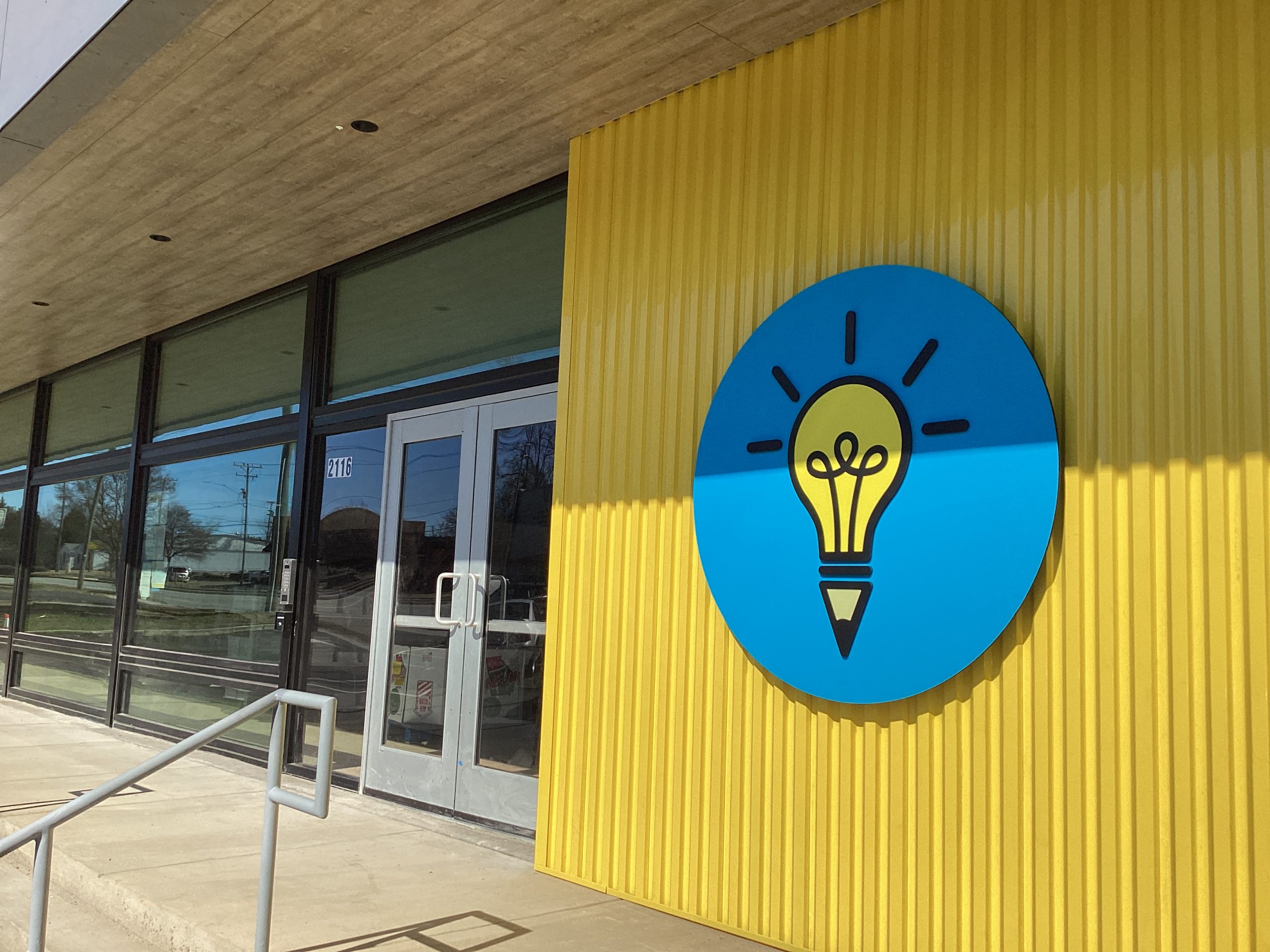 Classroom Central: Providing Free Supplies and Resources to Educators and Students
Classroom Central is a non-profit organization whose mission is to provide teachers and students with free access to the educational resources they need for success in the classroom. Classroom Central distributes school supplies to nearly 200 schools across six school districts, made possible thanks to the generosity and support of over 2,100 corporate and individual donors. The organization serves its mission through the Free Store, Mobile Free Store, and numerous community-supported programs.
About Us
Heritage Printing, Signs & Displays is a leading sign shop specializing in trade show displays, custom signs, and commercial interior graphics. Our goal with every job we do is to enhance corporate spaces, promote brands, and captivate customers with the signs and graphics we create and install. If your company seeks to create new, high-quality displays from an award-winning sign company with a commitment to excellence and outstanding customer service, call our sign professionals at (502) 576-7599. Or if you want to Get a Quote for free, use our convenient form today!
#tradeshowdisplays, #customsigns, #commercialinteriorgraphics,#displays, #dimensionallettering, #wallwraps, #windowgraphics