Reception Signs
Thursday, September 1, 2022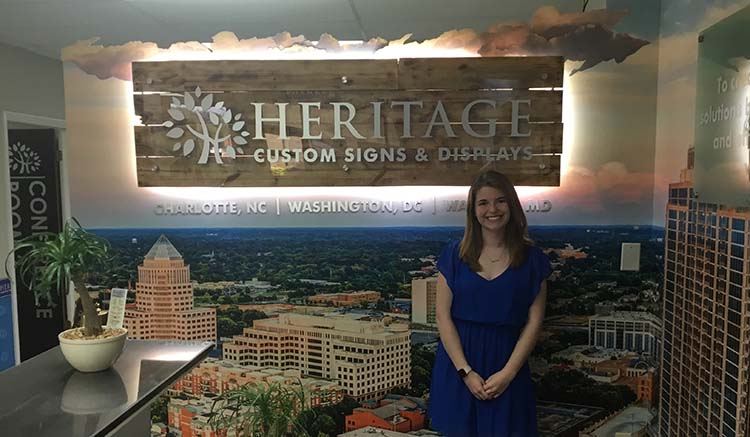 Every company wants a competitive edge — something that makes them stand out or mark them as different. While most companies have a brand that conveys their purpose and values, they might struggle to find outlets to bring that message to life and incorporate it into their office space. That's where we come in. With our creative team, we work to make your wants, needs and wildest ideas come to life. To make all those things possible, we make recommendations, and for this specific instance, we recommend a reception sign. Reception signs are highly visible to both the clients and employees of the company — acting as both an informer and reminder.
I see this inspiration in our reception space: when the client or employee first walks in, they see "Heritage Printing, Signs & Displays." This sign is made up of several different components. These components consist of: wood, acrylic, dimensional PVC letters, and LED lighting. To the right the reception sign is our mission statement mounted onto the wall. It states: "Our Mission: Blessing others by creating quality visual communication solutions, utilizing best production practices and superior customer support." This sign is mounted on acrylic with vinyl adhesive letters. These two signs not only display our abilities at Heritage Printing, Signs & Displays, but also display our brand, values, and goals. This is informative for our clients, but also motives, our employees continue to provide quality work each day.
To better understand this process, I interviewed one of our project coordinators, Lamar Scott. Lamar gave me further insight into his role at Heritage Printing, Signs & Displays and why he thinks reception signs are worth the investment.
Bethany: What is your role at Heritage Printing, Signs & Displays?

Lamar: I am a project coordinator and I view my role as a client consultant. I help guide our clients on the right path, to get the biggest bang for their buck. I strive to create a quality product, not just a quick, short-term solution."

B: What is the appeal of a reception sign?

L: Reception signs are an overt way to bring a brand to life — when you invest in a quality sign for your welcome area, it transforms a lobby into a reception — revealing to the client a sense of establishment and ability to invest well in their company, and thus their services that they have to offer."

B: What has been your favorite project that included a reception sign?

L: "My favorite job was when we worked with the Hershey's corporation in Washington DC. The reception sign was simple, but introduced a clean and corporate look."

B: What should the client know when ordering this product?

L: "Whatever product we create and produce, we are ensuring quality and enhance the brand while simultaneously turning the heads of clients."