PGA Window Graphics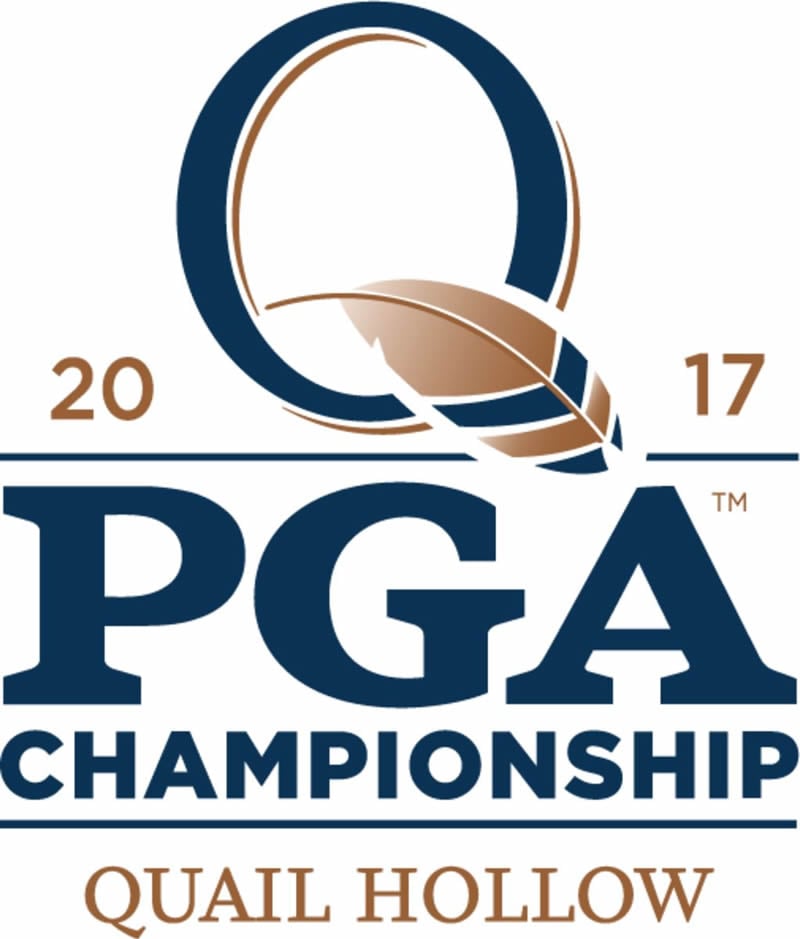 "Being a golfer, it was cool to be involved in the Quail Hollow PGA Championship in Charlotte!" Brent Thompson, Production Manager, Heritage Printing, Signs & Displays.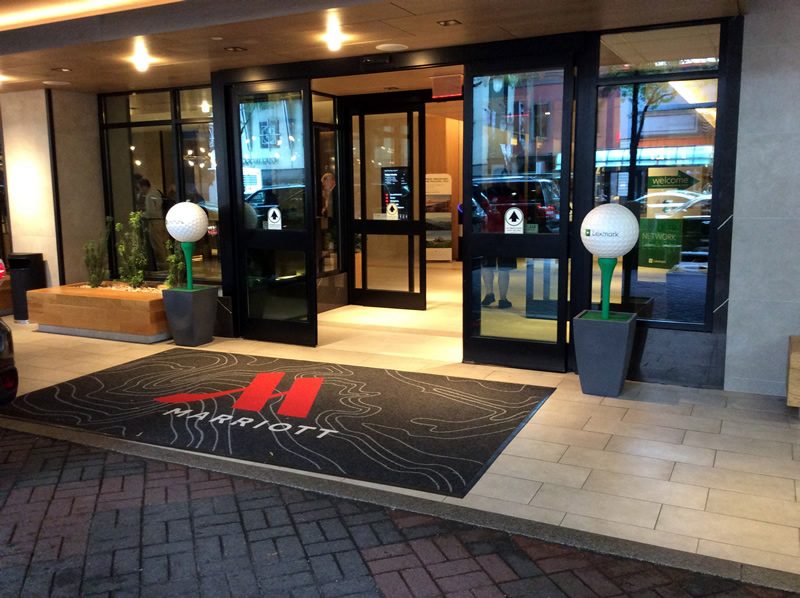 Heritage Printing, Signs & Displays provided 6 signage projects for BORN, the advertising agency hired by Lexmark, sponsor of the 2017 Quail Hollow PGA Championship in Charlotte. All signage was printed in the Heritage Printing, Signs & Displays facility in Charlotte and installed at the Marriott Hotel, which hosted most of the professional golfers and their teams.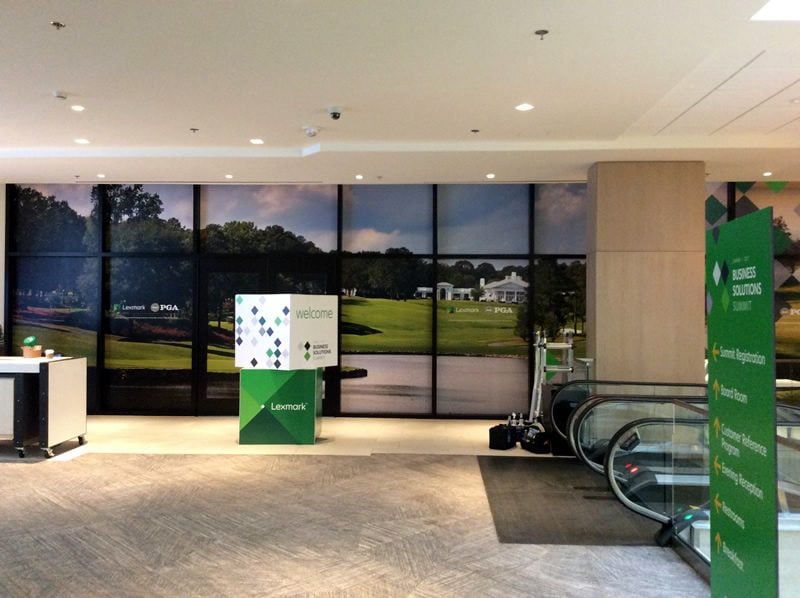 Vertical Window Graphics:
The 30 glass windows formed a single wall, which was wrapped with a full-color, custom printed golf graphic. The individual graphics flowed from pane to pane to create a single image over the massive 10' glass wall. Heritage Printing, Signs & Displays printed on a removable Mohave vinyl, because the window graphics were temporary for the 4-day event. The install took Thompson and his team 6 hours to install, with a removal time of 2 hours.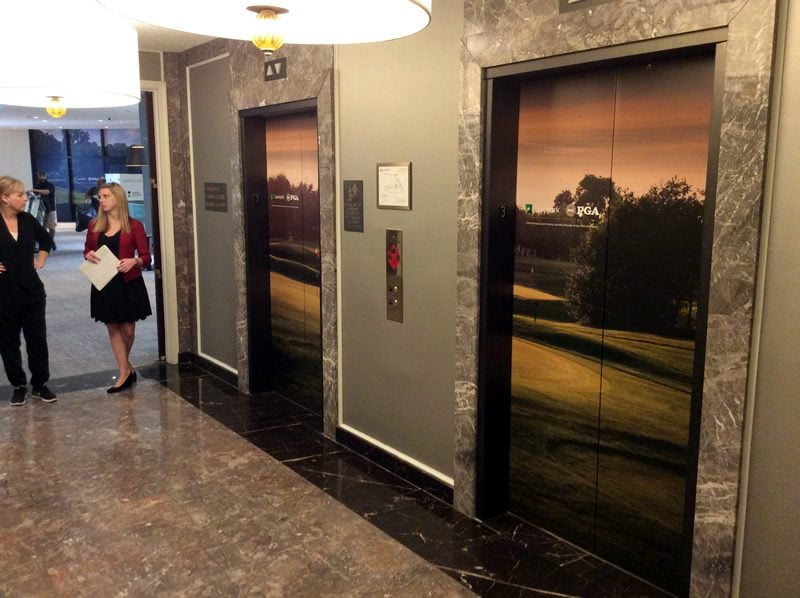 Elevator Wraps:
4 elevators, consisting of 8 doors, were wrapped to provide an impressive representation of a golf course. Each pair of elevator doors had a unique image, installed across both doors. Thompson said, "Wrapping the elevators could have been a challenge, but the team at Marriott made it easy by controlling access during the install."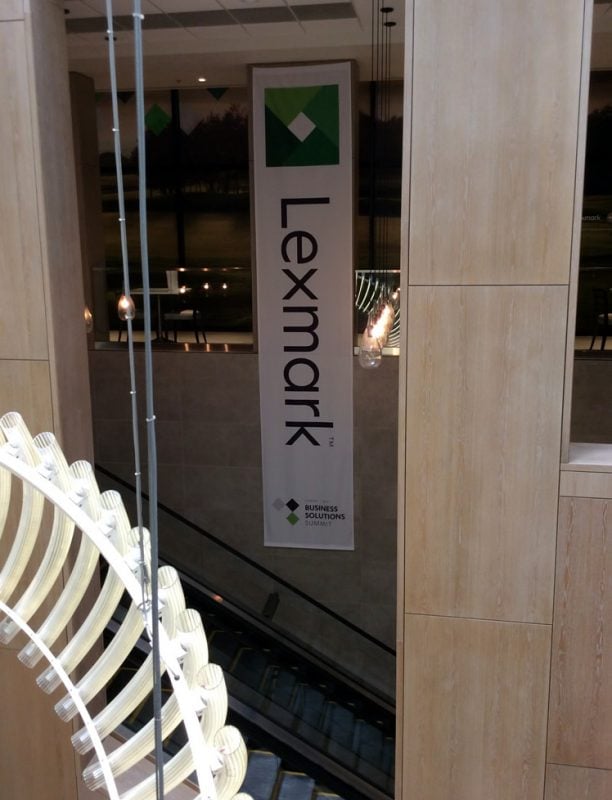 Fabric Banner:
Heritage Printing, Signs & Displays latex printed the Lexmark brand on a 20' vertical fabric banner and installed it on a column at the Marriott. The banner was made with pole pockets and dowels to prominently display the extra-large banner to the golfing community.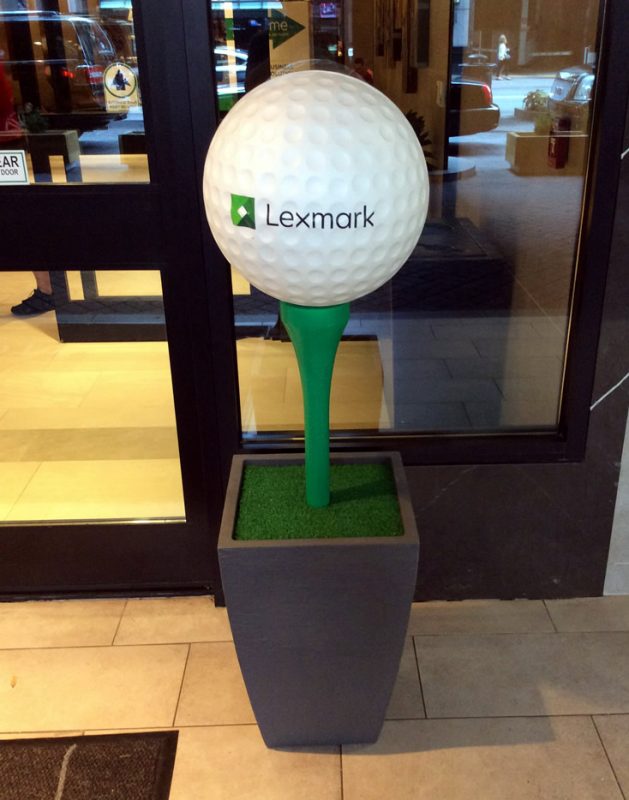 Golf Tees:
Heritage Printing, Signs & Displays made 6 jumbo golf tees, holding a super-sized golf ball, to depict a tee box. A planter box was fitted with ½" custom cut foam core, covered in artificial turf, that held the tee and ball ready to "Tee Off". Contour cut Lexmark decals were installed on the golf balls.

Meter Boards:
Heritage Printing, Signs & Displays custom printed 2 meter boards for the event. Both 3' x 7' boards were used for directional and agenda signage. The signs were single side printed on black Gator Board, to have black edges, and installed in free standing Mighty Mounts bases.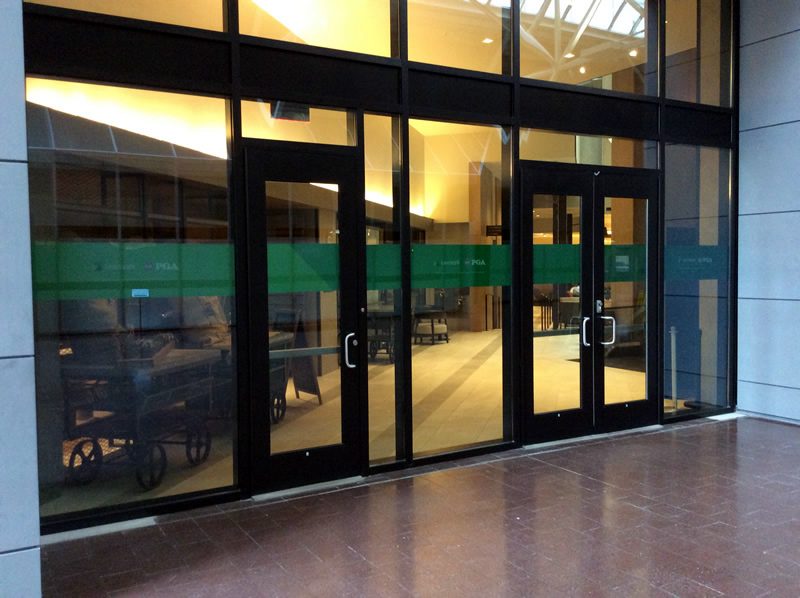 Horizontal Window Graphic:
This unique window banner was custom printed, *front side and 2nd surface, to be visible from both sides of the glass. The 20' x 18" graphic was installed on an entrance door of the hotel.
*Front side print puts the ink on the front of the vinyl. 2nd surface print places the ink on the back (adhesive side) of the vinyl.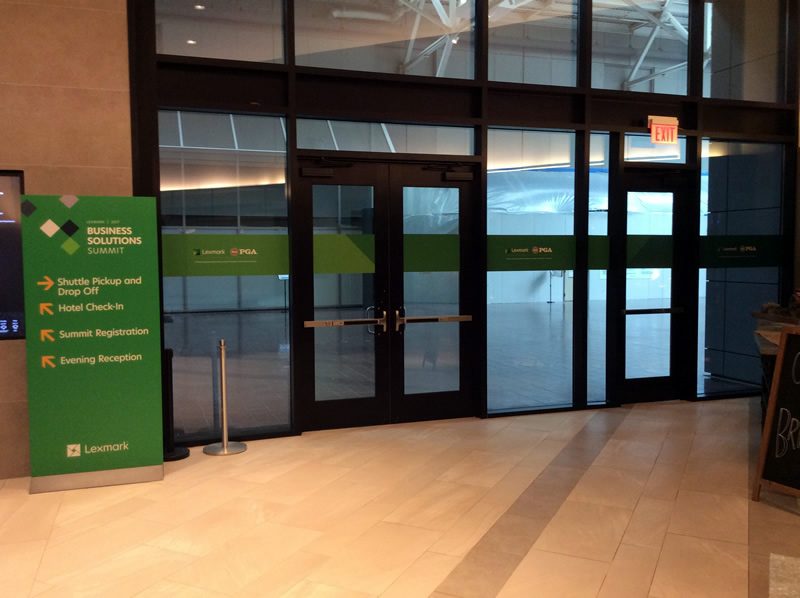 "Our agency had a great experience working with James Zambrano and the team at Heritage Printing, Signs & Displays. They brought our designs to life and the quality was incredible. From helping us develop ideas in the concept phase, being super available/flexible/knowledgeable during the production phase, to their efficiency and professionalism during the install – they were truly a great partner. Can't wait to work with them again!" Jennifer Larkin, Account Director, BORN.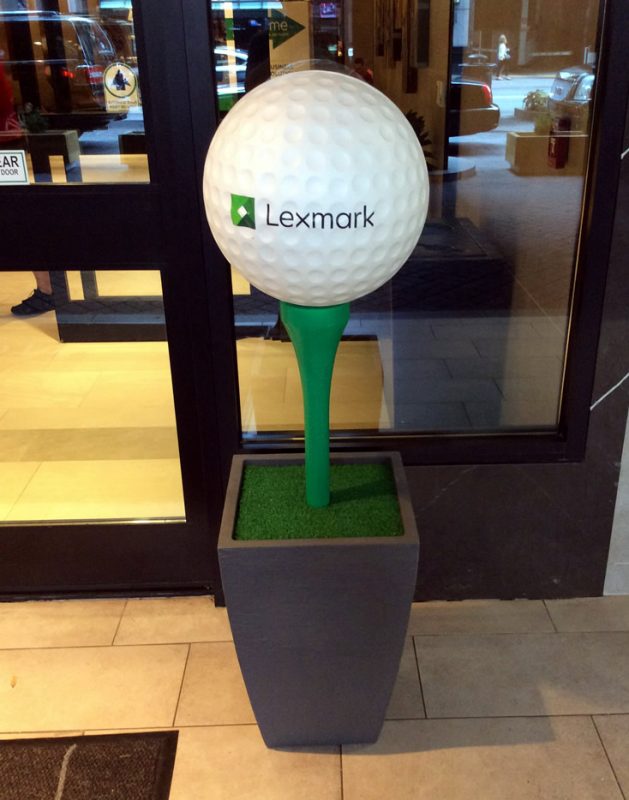 BORN is a strategic branding, design and advertising agency. We craft strategies, identities and experiences to connect great brands and people. At the heart of our work is a passionate group of creative minds, who love what they do. We're brand focused, design-led and strategically driven.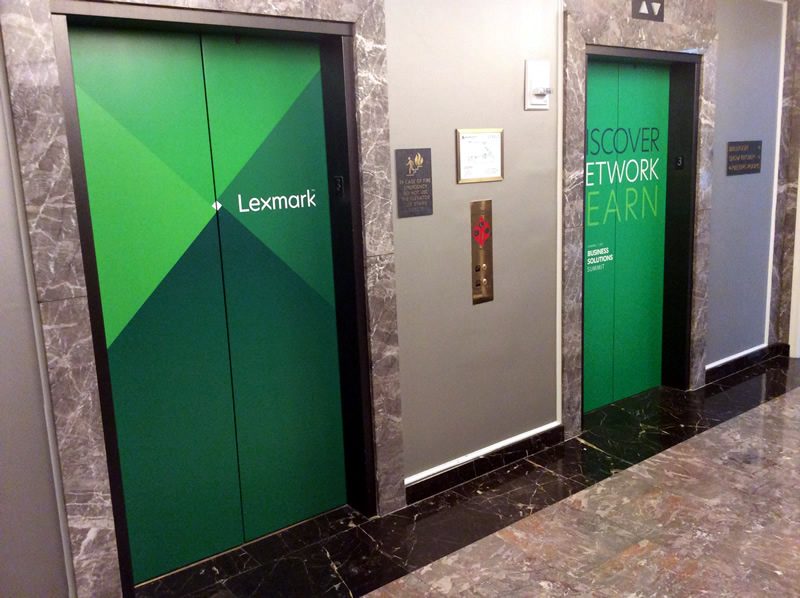 "The PGA Championship is an enormous event in our region. We are proud to be partnered with BORN & Lexmark on this project." James Zambrano, Projects Manager, Heritage Printing, Signs & Displays.
Founded in 1991, Lexmark is recognized as a global leader in imaging and output technology solutions and managed print services by many of the technology industry's leading market analyst firms. Lexmark sells its products and services in more than 170 countries and is headquartered in Lexington, Kentucky. http://www.lexmark.com